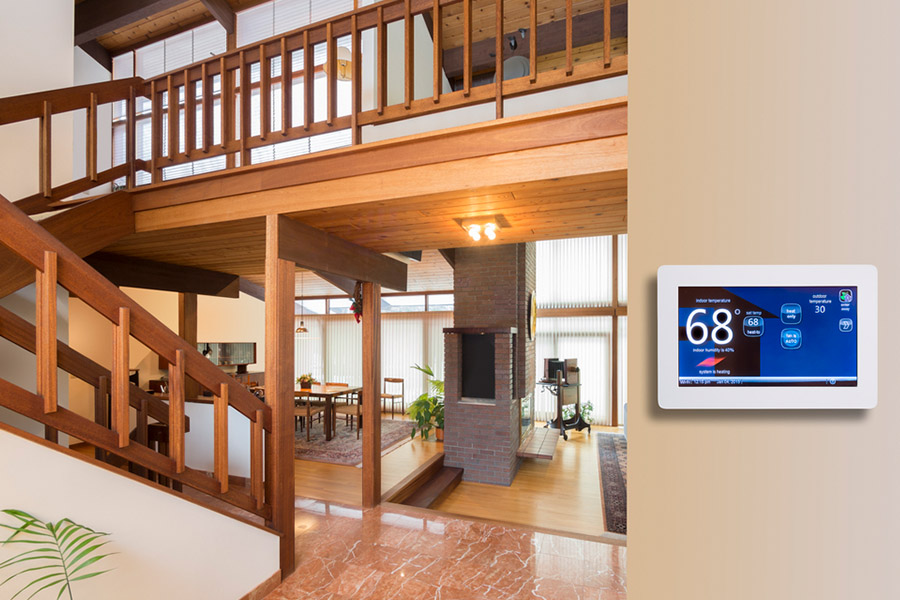 Why Install A Smart Thermostat In Naperville?
Today's smart thermostats have evolved well past the point of being just a basic mechanism for regulating your home's comfort levels. If you want to install a smart thermostat in Naperville, you're going to get a wealth of comfort with less effort on your part. Featuring easy Wi-Fi access, multi-room sensors, and integration into your home automation network, these remarkable controls will reduce heating and cooling costs and improve your home's overall comfort and safety.
What Are Smart Thermostats In Naperville?
Following installation, your smart thermostat will work in a similar manner as the old version in terms of standard temperature control. The look might be sleeker, but you'll have the same ability to see the temperature display. You will still raise and lower your temperature settings right from the component, and a smart thermostat continues to allow you to quickly adjust settings for cool, heat, and fan.
But, if you install a smart thermostat in Naperville, you will enjoy a whole host of exciting features. This is due to the fact that this HVAC component is connected wirelessly to a larger system, like your Google smart speaker or home security system. With a smart control panel or cell phone app, you are able to set your smart thermostat to change the temperature by itself at different times of day or to react to different stimuli. The result is a home with enhanced comfort and energy efficiency.
Why You Should Install A Smart Thermostat in Naperville
There are many justifications for switching from your traditional thermostat to a smart thermostat:
● Easy control with a smartphone app. Take command of the thermostat from a distance through a cell phone app such as the intuitive platform from ADT. Is it a little too warm as you're trying to sleep? Just open your phone and adjust the A/C while staying in bed. Or check on your house's temperature readings when on holiday with family, and alter the settings to save energy if your house is empty.
● Take advantage of scheduling. An innovative smart thermostat can be configured with one or more schedules for heating and cooling. Set multiple temperature changes to best fit your lifestyle. Reduce the heat when it's time to go to bed, then raise it about an hour before you wake up. You might even devise different scenes for specific occasions -- for example a scene for when you're hosting a party or a scene for when you use the fireplace.
● Save energy through home automation. One of the best things about smart thermostats is how they save money on energy expenses. Because you can easily modify comfort levels as needed due to seasonal changes, weather events, or time of day. You won't throw money away heating a vacant residence. Additionally, when implementing schedules, your thermostat changes the temp automatically. Many utility companies are known to extend rebates and savings programs for qualifying models or situations.
● Use voice commands to control your property. If you elect to install a smart thermostat in Naperville, you also have the opportunity to configure it to work with a Google or Amazon AI assistant. This allows you to control the temperature without stopping what you're doing.
● Join your thermostat to various home automation components. When your smart thermostat is part of an overall home security system, you have the chance to connect all your components together. This will help keep your home safe when emergencies arise. To illustrate, you might direct your thermostat to engage the HVAC fan when your fire alarm goes off.
Upgrade Your Home With A Smart Thermostat In Naperville Today
If your current thermostat falls short of meeting your needs, you should upgrade to an innovative "smart" model. These devices streamlined, a cinch to control, and can save money over the long haul. It's also best when you link it with a modern home security system. Contact us today at (630) 360-2986 or send in the form below to request your smart thermostat in Naperville.
Communities Served Around Naperville By Secure24 Your Local ADT Authorized Dealer